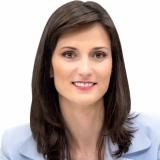 ERACON 2020 is honored to have the presence of the Commissioner Dr. Mariya Gabriel who will be with us in Varna, Bulgaria, giving also the Opening Speech of the Congress
The European Commissioner for Innovation, Research, Culture, Education and Youth, Dr Mariya Ivanova Gabriel, has placed the ERACON 2020 Congress under her patronage and will be personally present at the opening ceremony of ERACON 2020.
The European Association of Erasmus Coordinators (EAEC), announces the 16th annual Erasmus Congress and Exhibition - ERACON 2020, which will be held in Varna, Bulgaria, hosted at the University of Economics. Erasmus Coordinators, Placement and Internships Managers, Researchers and Professionals with an interest in the Erasmus Programme and belong either to the academic or business world, are invited to participate in the Congress to make presentations and submit written papers on their experiences in areas related to the Erasmus Programme. Proposals for sessions and workshops within the Congress are also invited.